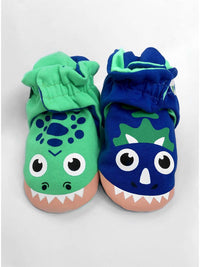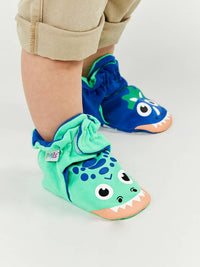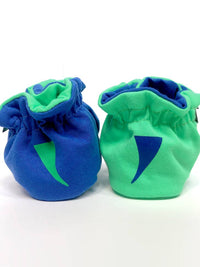 Pals Socks/Hooray Hooplah LLC
T-Rex & Triceratops Dinosaurs Non-Slip Baby Booties
We love these RAWRsome, super-soft, cozy mismatched T-Rex and Triceratops Dinosaurs non-slip baby booties! Start your tiny human off on the right foot. Let's be Pals! We don't have to match to be besties.
DETAILS
• Fits babies 6-12 Months and 12-18 Months
• Non-slip grips on the bottom for safety • 100% soft breathable cotton
• Gentle Velcro strap to ensure a snug fit. (No snaps = No choking hazard)
 • Easy to clean, machine washable
 • A perfect baby shower or 1st birthday present!
• A fun Christmas gift and stocking stuffer!